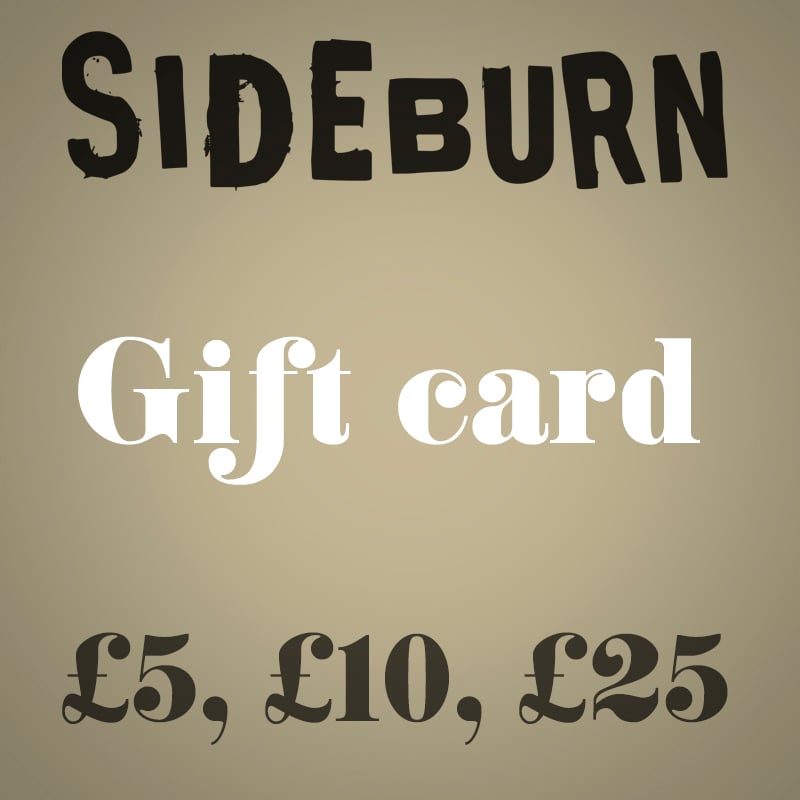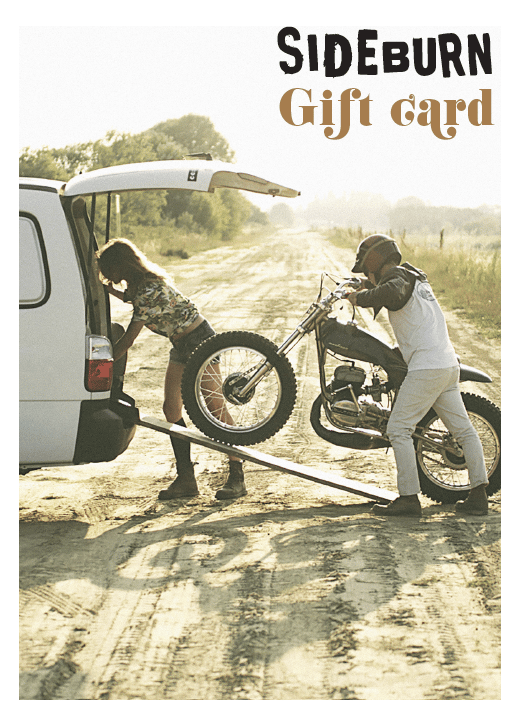 Don't know what to get your other-half or mate? Look no further.
When you buy a Sideburn Gift Card we will send you an actual card to hand over on the big day. There is space on the back to write a message.
Choose £5, £10 or £25 or buy multiples of any of these amount. Choose the gift card you want from the drop down menu.
Gift Card Terms and Conditions
* Sideburn reserves the right to amend these terms and conditions at any time.
Purchase:
Upon purchasing a Sideburn gift card, you (or the recipient, if it is purchased as a gift for someone else, and you have provided details of the recipient's name and address) will be sent the gift card detailing the gift card amount, issue/expiry date, and a Sideburn gift card code to enter in to sideburn.bigcartel.com when redeeming.
Redemption:
* Gift cards can only be redeemed on-line at sideburn.bigcarel.com. They cannot be used to purchase Sideburn products or merchandise at an event, OR from any other retailers selling Sideburn products/merchandise.
* They may be used to purchase goods of a higher price than the amount on the card, on payment of the difference.
* Cannot be exchanged for cash, or to buy another gift card.
* If any item purchased with a gift card is subsequently exchanged for an item of a lower price or refunded, any money owing (minus postage costs incurred) will be added to the remaining balance on the card, but the card's original expiry will remain the same.
* If you do not spend the entire balance on the gift card, the remaining balance will be updated after each transaction. The card's original expiry date will remain the same.
Period of Validity:
* Gift cards are valid for 12 months from the date of purchase.
* Any remaining balance will be cancelled on expiry of the validity period.
* Sideburn will not accept liability for lost or stolen cards.
Cancellation:
* Gift cards cannot be returned or refunded, except in accordance with your statutory rights.